Instruções:
Essas aulas de inglês são para alunos intermediários e avançados de inglês como segunda língua. Eles incluem "Ler", "Ouvir" e "Escrever". Basta seguir a lição respondendo às perguntas à medida que as encontra. Todas as vagas em negrito devem ser traduzidas para seu próprio idioma para ajudar na compreensão do novo vocabulário.
Introduction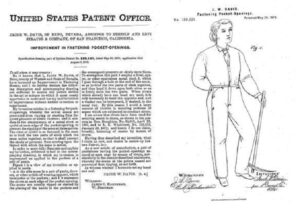 I started wearing Levi's when I was sixteen years old and at the same time wearing Ben Sherman shirts. Now I am 66 years old and I am still wearing them. I never wear anything else other than these two brands. This iconic brand came from The United States during the 1950s. Both brands were a symbol of rebellion against the authority of parents. Before the 1950s people between the ages of 13 and 19  (teenagers) generally wore the same clothes as their parents and aspired to the same outlook on life.  However, in the 1950s with the advent of rock and roll came the idea of the "teenager" this changed everything. Movie icons such as Marlon Brando and James Dean released movies such as "Rebel Without a Cause" and "The Wild One" both of these films started and stoked the idea of "teenage rebellion."  https://www.levistrauss.com/
VIDEO QUIZ: Whilst watching the video please note the correct pronunciation of his name "Levi"
QUESTIONS: Listen to the video and answer the ten questions.
What did Levi Strauss invent?
What nationality was Levi Strauss?
When was he born and where?
What was his mothers name?
Where did the "gold rush" take place?
Who did he intend selling clothes to?
His first ten pairs of trousers were made from something he couldn't sell. What was that item?
What is the name of the fabric he eventually used to make his jeans? What colour were the first Levi jeans?
Why did he decide to reinforce the pockets with brass studs? (rivets)
What was the patent number of the rivets.
James Dean   
Rebel Without A Cause. One of the most iconic movies of all time.  https://www.youtube.com/watch?v=wXRgAXU1-T4
Introduction
James Byron Dean was an American actor. He is remembered as a cultural icon of teenage disillusionment and social estrangement, as expressed in the title of his most celebrated film, Rebel Without a Cause, in which he starred as troubled teenager Jim Stark. He was born on 8th of February 1931 in Indiana and died on 30th of September 1955 aged just 24 years old after crashing his sports car.  James Byron Dean, was born in Marion, Indiana.
An interview with James Dean:  https://www.youtube.com/watch?v=vz3W87uWcx8
"You're tearing me apart."  Probably the most famous scene in his most famous movie.  https://www.youtube.com/watch?v=UBOcWFBBB04
Jim Carey does his Jimmy Dean impression.  https://www.youtube.com/watch?v=dCc3pG-4Km0
In his own words:
He said, "My parents, Winton Dean and Mildred Dean, formerly Mildred Wilson, and myself lived in the state of Indiana until I was six years of age."  "Dad's work with the government caused us to move, so Dad as a dentist was transferred to California."  "There we lived, until I was four years old."  "Mom became ill and passed away when I was nine years old."  "I never knew the reason for Mom's death; in fact, it still preys on my mind."  "I had always lived such a talented life."  "I studied violin, played in concerts, tap-danced on theatre stages, but most of all, I like art, to mold and create things with my hands."  "I came back to Indiana to live with my uncle."  "I lost the dancing and violin, but not the art."  "I think my life will be devoted to art and dramatics."  "And there are so many different fields of art it would be hard to foul-up, and if I did, there are so many different things to do such as, farming, sports, science, geology, coaching, teaching music."
GRAMMAR QUESTION:  What kind of speech is this paragraph written in?
---
Marlon Brando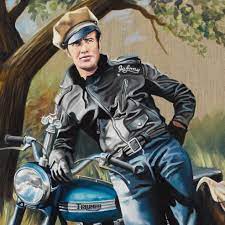 The Wild One was probably the first movie to show teenagers (bikers) in a bad light. After this movie was released many places banned bikers.  https://www.youtube.com/watch?v=8ecd8VVJJlY  
Marlon Brando Jr. was an American actor. Considered one of the most influential actors of the 20th century, he received numerous accolades throughout his career, which spanned six decades, including two Academy Awards, two Golden Globe Awards, one Cannes Film Festival Award and three British Academy Film Awards.
Birthday: Apr 3, 1924
Birthplace: Omaha, Nebraska, USA
Marlon Brando was born in Omaha, Nebraska in 1924, Marlon Brando's talent for performing developed early, as a way to distract his alcoholic mother (an actress) from the bottle. His impressions and ability to stay in character impressed his friends and family, and after his sister went to study acting in New York, her younger brother followed. A devoted student of Stella Adler and the Stanislavsky system, Brando worked to fully embody his roles, both psychologically and physically. The erratic behavior encouraged by the system caused many to distance themselves from the young actor, but as he developed, Brando began to turn in some revelatory performances. In 1946, Brando starred in the Broadway production of "Truckline Café," which earned him the title of "Most Promising Young Actor" by the New York Drama Critics. The play was also his first professional collaboration with legendary director and producer Elia Kazan. The two collaborated again on Broadway, with Kazan directing and Brando starring in Tennessee Williams play "A Streetcar Named Desire" in 1947. Brando's first screen appearance came in "The Men" (1950). The next year he reprised his role as Stanley Kowalski in the filmed version of "A Streetcar Named Desire" (1951) also directed by Elia Kazan. His performance was electric, earning Brando his first Academy Award nomination, and immediately vaulted him to the status of screen idol. Two years later he starred in the iconic motorcycle drama "The Wild One" (1953).  http://marlonbrando.com
---
Back to Levi Strauss
In 1852, Levi Strauss, an immigrant from Bavaria, opened a dry goods company in San Francisco at the height of the California Gold Rush. While he was working, he recognized a need among hardworking people: clothes built to endure anything. He and tailor Jacob Davis combined copper rivet reinforcements with tough denim, leading to the first manufactured waist overalls in 1873. Today, we call them "blue jeans."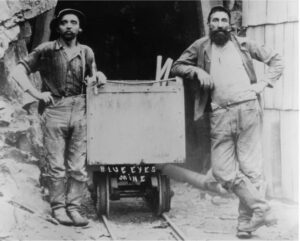 What started as an invention for the American worker became the uniform of progress. Worn by miners, cowboys, rebels, rock stars, presidents and everyday men and women, these functional pieces were the clothes people not only worked in—they lived their lives in, too. But Levi's® are more than that. They're the purest wearable form of authentic self-expression. They bear the markings of life, the shapes of our bodies, the memories of our adventures. Levi Strauss & Co. is one of the world's largest apparel companies and a global leader in jeans. We have some 500 stores worldwide, and our products are available in more than 100 countries. The Levi's® brand is just part of our story.
Levi's have been worn by people of all background from miners to actors including Nobel Prize recipients. Marlon Brando and Albert Einstein wore Levi's, and Einstein's leather jacket was made by Levi Strauss & Co. in the 1930s and sold at auction house Christie's in July 2016 for £110,500.
Modern jeans began to appear in the 1920s, but sales were largely confined to the working people of the western United States, such as cowboys, lumberjacks, and railroad workers. Levi's jeans apparently were first introduced to the East during the dude ranch craze of the 1930s, when vacationing Easterners returned home with tales (and usually examples) of the hard-wearing pants with rivets. Another boost came in World War II when blue jeans were declared an essential commodity and were sold only to people engaged in defense work.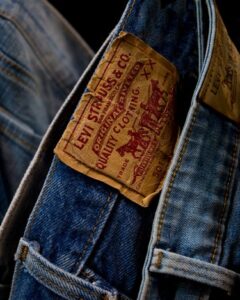 Between the 1950s and 1980s, Levi's jeans became popular among a wide range of youth subcultures, including greasers, mods, rockers, and hippies. Levi's popular shrink-to-fit 501s were sold in a unique sizing arrangement; the indicated size referred to the size of the jeans prior to shrinking, and the shrinkage was substantial.  The company still produces these unshrunk, uniquely sized jeans. Although popular lore (abetted by company marketing) holds that the original design remains unaltered, this is not the case: the crotch rivet and waist cinch were removed during World War II to conform to War Production Board requirements to conserve metal and were not replaced after the war. Additionally, the back pocket rivets, which had been covered in denim since 1937, were removed completely in the 1950s due to complaints they scratched furniture.
Writing Exercise: (Write 150 words) and answer the question below and include the grammar requested. Write your essay here  (WRITE HERE)  and post it to me for marking. 
What fashion changes can you remember from when you were a teenager and how do you think it changed society.
Grammar to include:
Use as many superlatives and comparatives as you can to help you explain yourself.
More Information about Levi's
Below are some Amazon ebooks to download and help you study. Simply click the book cover to download.