An Intermediate / Advanced English lesson explaining the concept of Aerobic metabolism (Sports Science) If you are into sports and also learning English. Welcome
Instruções:
Essas aulas de inglês são para alunos intermediários e avançados de inglês como segunda língua. Eles incluem "Ler", "Ouvir" e "Escrever". Basta seguir a lição respondendo às perguntas à medida que as encontra.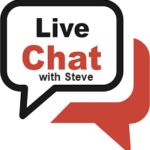 Todas as vagas em negrito devem ser traduzidas para seu próprio idioma para ajudar na compreensão do novo vocabulário.
Please LIKE & SUBSCRIBE to my Youtube channel  https://www.youtube.com/c/SteveBradeley/videos
MY AMAZON BOOKSTORE PROFILE
WELCOME TO YOUR LESSON:  (Sports Science beginner 1)
How to calculate your resting heart rate to monitor your fitness levels.
~~~~~~~~~~~~~~~~~~~~
Introduction:
To check your pulse at your wrist, place two fingers between the bone and the tendon over your radial artery which is located on the thumb side of your wrist. When you feel your pulse, count the number of beats in 15 seconds. Multiply this number by four to calculate your beats per minute.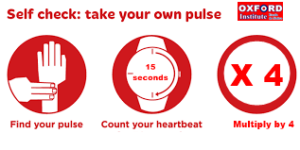 For example:  15 bpm  x  4  = 60 bpm
NEW VOCABULARY:  pulse, wrist, bone, tendon, radial artery, thumb, number of beats
multiply, calculate, beats per minute
VIDEO INSTRUCTION ONE
QUESTIONS: 
In the video how many seconds did she measure the girls pulse for?
Which arm do you use to measure your pulse?
What is the name of the artery in your right arm that you can feel your pulse.
SECTION ONE: Calculating your optimum AEROBIC working pulse rate for general health and fitness.
SPORTS NUTRITION PRODUCTS for Amazon
To determine your maximum heart rate (MHR), subtract your age from 220.  For example, a 35-year-old's maximum heart rate (MHR) is 220 minus 35 — or 185 beats per minute. To enter the fat-burning zone, you'd want your heart rate to be 70 percent of 185, which is about 130 beats per minute. 70% of your maximum is scientifically considered to be the optimum intensity of exercise to burn fat in the body.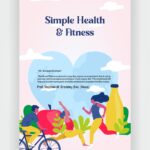 The reason for this is that fat needs oxygen to burn efficiently. At 70% of your MHR your metabolic aerobic systems are receiving enough oxygen to efficiently burn the fat.
Imagine cooking some chips in your kitchen in hot oil, and the oil catches fire. In a panic situation what do you do? Firstly, NEVER PUT WATER ON BURNING OIL.  But instead put a wet cloth over the fire immediately. What this does is blocks oxygen from the fire. Fire cannot burn without oxygen. Your metabolism is simply a fire in your body. That's why we get hot when we exercise right?
FREE FITNESS BOOK:    Simple Health and Fitness – Paperback and Hardcover
NEW VOCABULARY: aerobic, maximum heart rate (MHR), subtract, considered, 
optimum intensity, to burn, efficiently, metabolic, catches, panic, blocks
For example:
For a male:  220 bpm – 36  (your age)  x 70% = 129 bpm. After a warm up your working heart rate should be around      129 bpm.
For a female: 228 bpm – 36 (your age) x 70% = 134 bpm. After a warm up your working heart rate should be around      134 bpm.
So, why is the female calculation different from a man's calculation.  Answer:  generally females have slightly smaller hearts than men. Garmin Smartwatches Dash Cams & More
VIDEO INSTRUCTION TWO:
QUESTIONS:
What is the first step to determine your maximum heart rate?
What is the percentage used to determine your working heart rate?
WRITING EXERCISE: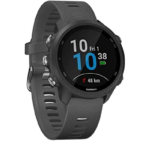 Firstly, calculate your predicted fat burning working zone (BPM). Then explain to me in English why we use 70% of our MAX heart rate.  Write 150 words approx.   Garmin Forerunner 245
GRAMMAR TO USE:
Firstly, watch the video below about the past continuous tense and then include one example in your writing text.
OXFORD INSTITUTE FITNESS PRODUCTS
[sp_comments_block]


[fcp-cc-calculator]