The Hunt for the Auschwitz Butcher Josef Mengele's Life in Brazil
REVIEW: ENGLISH
The Hunt for the Auschwitz Butcher: Josef Mengele's Life in Brazil is a gripping and insightful eBook that delves into the life of one of history's most infamous figures, Josef Mengele. As an SS officer and physician, Mengele conducted horrifying experiments on prisoners during World War II at the Auschwitz concentration camp. This book follows his journey in Brazil, where he lived undercover after escaping from Europe.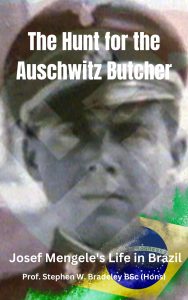 The author's impeccable research and investigative skills bring to life the chilling details of Mengele's life and crimes, offering readers a rare glimpse into the mind of this notorious war criminal. It becomes evident through interviews, archival material, and firsthand accounts that the author has left no stone unturned in unraveling Mengele's secrets.
One distinct strength of this eBook is its ability to transport readers to a time and place where evil thrived, immersing them in the harrowing complexities of Mengele's existence. The vivid descriptions of his time in South America provide a stark contrast to his earlier life as "The Angel of Death" at Auschwitz. The book aptly reveals how he managed to evade capture for so long, shedding light on the various close calls he faced throughout his years on the run.
However, The Hunt for the Auschwitz Butcher does not shy away from depicting the consequences of Mengele's actions. Victim testimonies pierce through the narrative and serve as powerful reminders of the horrifying impact he had on so many lives. While some parts may leave readers unsettled, it is a testament to the author's unbiased and unflinching approach towards this dark chapter in history.
In conclusion, The Hunt for the Auschwitz Butcher: Josef Mengele's Life in Brazil is a haunting yet captivating read that grips you from start to finish. The blend of immaculate research, thrilling storytelling, and powerful personal testimonies makes this eBook essential reading for those interested in understanding the complexities of this infamous historical figure.
REVIEW: PORTUGUESE
A Caçada ao Açougueiro de Auschwitz: A Vida de Josef Mengele no Brasil é um e-book envolvente e perspicaz que investiga a vida de uma das figuras mais infames da história, Josef Mengele. Como oficial da SS e médico, Mengele conduziu experimentos horríveis em prisioneiros durante a Segunda Guerra Mundial no campo de concentração de Auschwitz. Este livro segue sua jornada no Brasil, onde viveu disfarçado depois de fugir da Europa.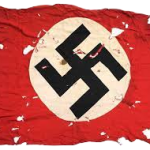 A pesquisa impecável e as habilidades investigativas do autor trazem à vida os detalhes arrepiantes da vida e dos crimes de Mengele, oferecendo aos leitores um raro vislumbre da mente desse notório criminoso de guerra. Torna-se evidente através de entrevistas, material de arquivo e relatos em primeira mão que o autor não deixou pedra sobre pedra ao desvendar os segredos de Mengele.
Uma força distinta deste eBook é sua capacidade de transportar os leitores para um tempo e lugar onde o mal prosperou, imergindo-os nas angustiantes complexidades da existência de Mengele. As descrições vívidas de seu tempo na América do Sul fornecem um forte contraste com sua vida anterior como "O Anjo da Morte" em Auschwitz. O livro revela apropriadamente como ele conseguiu escapar da captura por tanto tempo, lançando luz sobre os vários perigos que enfrentou ao longo de seus anos em fuga.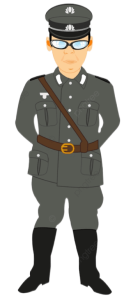 No entanto, The Hunt for the Auschwitz Butcher não se esquiva de retratar as consequências das ações de Mengele. Os testemunhos das vítimas atravessam a narrativa e servem como lembretes poderosos do impacto terrível que ele teve em tantas vidas. Embora algumas partes possam deixar os leitores inquietos, é uma prova da abordagem imparcial e inabalável do autor em relação a este capítulo sombrio da história.
Concluindo, A Caçada ao Açougueiro de Auschwitz: A Vida de Josef Mengele no Brasil é uma leitura assombrosa, porém cativante, que o prende do início ao fim. A mistura de pesquisa imaculada, narrativa emocionante e poderosos testemunhos pessoais torna este eBook leitura essencial para os interessados em compreender as complexidades desta infame figura histórica.