IN THE NEWS THIS WEEK
Please share my lesson using your social media platforms. Use the links above.

Student FREE Bookstore   (CLICK HERE)

https://www.fiverr.com/s/YDrPkl
INTRODUCTION:
A deadly tornado has swept through a northern Texas town, killing three people and injuring dozens more.
Perryton, which is near the Oklahoma border, appears to be at the centre of an intense storm system that has carved its way through the South. Surrounding areas are sending emergency crews to assist the town, home to about 8,000 people. At least 30 mobile homes took a "direct hit" from the tornado as it started to   BUCKET DOWN    and were damaged or destroyed, said a local fire chief.  As the skies   CLOUDED OVER   very quicly, residents started to realise that something bad was on its way.
LISTEN TO THE AUDIO FILE:    DOWNLOAD HERE
NEW VOCABULARY:      deadly, swept, injuring, dozens, intense, storm, carved, mobile homes, 
SECTION ONE:
Further 75 people were taken to hospital, added Perryton Fire Chief Paul Dutcher. A spokesperson for Ochiltree General Hospital told ABC News they are operating on generators amid widespread power outages. The National Weather Service (NWS) reported the tornado touched down around 5 pm local time (23:00 BST) on Thursday. Republican US Representative Ronny Jackson said on Twitter that he is "praying for the people of Perryton tonight" and, in addition to being   IN TOUCH   with Perryton's mayor, is monitoring the situation with his staff.
Multiple tornadoes may have hit the town, according to local media. The severe weather threat will continue for southern states over the weekend. Weather experts were hoping that it might BLOW OVER but it didn't. States across the Plains and mid-south could see more hail and damaging winds, but tornadoes are a possibility. "It had been a cool day," said Fire Chief Paul, but as the day started to WARM UP it was clear that the weather was changing for the worse. 
LISTEN TO THE AUDIO FILE:      DOWNLOAD HERE
NEW VOCABULARY:  spokesperson, generators, amid, widespread, power-outages, touch down, staff, multiple, threat
WRITING SECTION ONE:    In two sentences explain what a "power Outage" is. In your writing use the phrasal verb below:
LASH DOWN – if the rain lashes down, a lot of rain falls and there is also often a lot of wind. For example, It was a wild evening. The rain was lashing down and the wind was howling through the trees.
VIDEO LISTENING SECTION:
QUESTIONS:
 According to the video, how does a tornado start?*

Download our 600-Idioms digital book it's only R$25 on amazon.com.br

Which country based on land size has the most tornados?
What are the two classifications of tornados?
Thinking about high and low pressure how does wind form?
What is the EF scale, what does the EF scale do and what does EF stand for?
What wind speed is an EF1 and what wind speed is an EF5 in miles per hour?
Where and when was the most powerful tornado recorded?
How many people died in that tornado?
What was the cost of the damage caused?
SECTION TWO:
Daily hailstorms have plagued the southern US since Saturday, and on Thursday, around 43,000 people were without power in Texas and Oklahoma, according to Poweroutage.us.
Elsewhere in the south, in Abbeville and Eufaula, Alabama, witnesses reported at least two tornadoes on Wednesday. The mayor of Eufaula, Alabama, told local media a tornado carved a nearly four-mile path through town, tearing down at least one building and toppling 40 trees. No injuries or deaths have been reported. This was the fourth time a twister hit the small town in as many years, the mayor said. By about 6 pm the weather started to BLOW OVER and return to normal leaving devastation. The following day it had BRIGHTENED UP.
LISTEN TO THE AUDIO FILE:      DOWNLOAD HERE
NEW VOCABULARY:  hail, hailstorms, plagued, elsewhere, witnesses, four-mile, path, tearing down, a twister, devastation
WRITING SECTION TWO:    In two sentences explain what a "hail storm" is.  In your writing use the phrasal verb below:
BE SNOWED IN / BE SNOWED UP
to be unable to leave the place where you are because there is so much snow on the ground For example,  Many people are snowed in and cannot get to work.
GRAMMAR SECTION:   PHRASAL VERBS  The Weather
A phrasal verb is a verb that consists of multiple words. Typically, a phrasal verb includes a main verb followed by one or more prepositions or adverbs. It is common in English and can drastically change the meaning of the sentence when used in different contexts. When writing, try to use phrasal verbs sparingly and ensure that they are used correctly and appropriately for the context of your writing.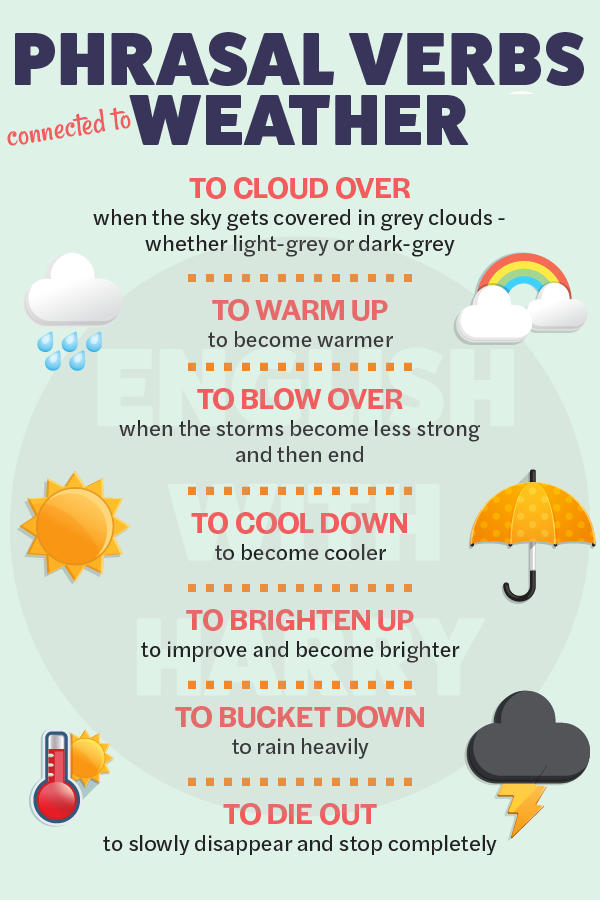 SECTION THREE:
In neighbouring Georgia, two people narrowly escaped a house that collapsed during storms in the southwest of the state, the town's sheriff was quoted as saying by local media. Trees and downed power lines were also reported in other parts of the state.  Much of the south remains under severe storm warnings, according to the NWS, with officials warning of severe thunderstorms, tornados, gale-force winds and flooding before it eventually DIES OUT. Another NWS meteorologist, Juan Hernandez, said: "It's a little late in the year to be getting daily hailstorms across the southern plains, this number of consecutive days.  Meanwhile, on Thursday more than 33 million people in Texas, Florida and Louisiana were under heat advisories, according to the NWS.
LISTEN TO THE AUDIO FILE:      DOWNLOAD HERE
NEW VOCABULARY: neighbouring,  narrowly, collapsed,  southwest, quotes as saying, downed power lines, severe storm warnings, thunderstorms, a gale, gale-force winds, flooding, meteorologists, hailstorm, southern plains, consecutive, heat advisories, 
WRITING SECTION THREE:
Use at least two of the phrasal verbs in the graphic above to write a short three-sentence paragraph about the worst weather experience you have had.
——————-
ADVERTISEMENT SECTION: 
Are you learning another language for example French or German? Why not get yourself organised with one of our specialised organisers? Designed, written and produced by Steve, your English Teacher.
I'm Learning German:  https://www.amazon.de/dp/B0C7TG1B4W
I'm Learning French:  https://www.amazon.com/dp/B0C87DW48N
I'm Learning Spanish:  https://www.amazon.com/dp/B0C7SZ98GQ
I'm Learning Portuguese:  https://www.amazon.com/dp/B0C7T5HXRW
I'm Learning Mandarin:  https://www.amazon.com/dp/B0C87SBY8L
I'm Learning Italian:  https://www.amazon.com/dp/B0C7SZ98V7
I'm Learning Japanese:  https://www.amazon.com/dp/B0C87VXZKM
——————-
---
EXTRA WORK SECTION:
Review the grammar video below.  (PAST PERFECT)