LEVEL:  Intermediate / Advanced
Complete English grammar course
https://www.udemy.com/course/ingles-grammar-ielts-alunos-iniciante-intermediraio-avancado/?referralCode=B329D12CF7278FEB36BB
Advanced English Reading & Vocabulary Lessons
Lesson 1 (60 minutes)
5 minutes Conversation and discussion

30 minutes: Reading

20 minutes Writing

5 minutes Conversation, Text Correction and discussion
Read the text below then answer the questions below:
Will Smith Confronts Chris Rock at Oscars
The  mood at the Oscars quickly changed on Sunday night when Will Smith marched onto the stage and slapped presenter Chris Rock in the face.
VOCABULARY:   MOOD, MARCHED, SLAPPED
It all began when Rock mentioned Jada Pinkett Smith's shaved head. Rock said: "Jada, I love you. G.I. Jane 2, can't wait to see it, all right?" Rock was referring to the 1997 film G.I. Jane, starring Demi Moore. Moore shaved her head for the role.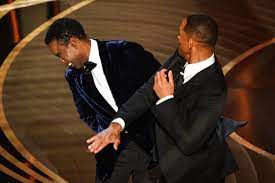 Pinkett Smith revealed in 2018 that she was diagnosed with alopecia, a health condition that causes hair loss. She often mentions the challenges of hair loss on Instagram and other social media platforms.
Chris Rock's joke missed, badly.
VOCABULARY:   MENTIONED, SHAVED, ALOPECIA, HAIR LOSS
Smith walked onto the stage from his front-row seat and slapped Rock in the face. He then walked back to his seat and shouted for Rock to leave his wife alone. Rock replied that he was just making a joke and Smith yelled back a second time.
A hush fell over the crowd, and it became clear this was no act.
The moment shocked the Dolby Theatre audience and viewers at home. At the commercial break, several attendees reached out to offer support to Will Smith, including Denzel Washington and Tyler Perry.
VOCABULARY:   FRONT ROW, SHOUTED, JOKE, YELLED, HUSH, SHOCKED, COMMERCIAL BREAK, ATTENDEES, REACHED OUT, 
Will Smith returned moments later to accept his first-ever Academy Award and delivered a tearful apology. Smith described how he was the protector of many including his wife, Jada Pinkett Smith. He compared himself to tennis dad Richard Williams from King Richard.
"Richard Williams was a fierce defender of his family," Smith said as he began his acceptance speech after winning best actor honors. He apologized afterward to many people—including tennis stars Venus and Serena Williams, Richard Williams's daughters. He did not mention Rock in his apology at this time.
VOCABULARY:   DELIVERED, TEARFUL, APOLOGY, FIERCE, SPEECH, 
"I'm being called on in my life to love people and to protect people and to be a river to my people," said Smith during his acceptance speech after winning his first-ever Oscar. "I know to do what we do you've got to be able to take abuse. You've got to be able to have people talk crazy about you. In this business, you've got to be able to have people disrespecting you. And you've got to smile and pretend like that's okay."
VOCABULARY:   CALLED ON, ABUSE, TALK CRAZY, DISRESPECTING
On stage, Smith shared Denzel Washington's advice: "At your highest moment, be careful because that's when the devil comes for you." He concluded: "I'm hoping the Academy invites me back."
After the show, the Academy of Motion Pictures Arts and Sciences issued a statement saying it "does not condone violence of any form."
VOCABULARY:   CONDONE
The confrontation overshadowed Smith's award. He was previously nominated twice for best actor, for his role in Ali in 2002 and The Pursuit of Happyness in 2007. In those films, he portrayed real-life characters: boxing legend Muhammad Ali and Chris Gardner, a homeless salesman.
QUESTION:  There is a spelling error in the paragraph above. Can you find it?
Pinkett Smith was also the subject of jokes from Rock when he hosted the Oscars in 2016. She did not attend the Oscars that year, saying at the time her decision stemmed from a lack of diversity among award nominees and how Black artists were not properly represented.
VOCABULARY:   CONFRONTATION, OVERSHADOWED, NOMINATED, PORTRAYED, REAL-LIFE, SALESMAN, STEMMED FROM, DIVERSITY, PROPERLY
"I think we have to sometimes remember, like at a certain point, everyone breaks," said TV personality Karamo Brown. "I never condone violence or anything of that nature, but I also could understand protecting those you love."
VOCABULARY:   CERTAIN POINT, OF THAT NATURE
Lesson Instructions
Read the text and answer the questions below.
Write 150 word summary of the story above stating your opinion about violence of any kind. Do you agree with a man defending his wife? Do you think it might have been more heroric for Will Smith to have shared his feelings by speaking to the audience about why he was upset? You decide? In your text please use as many comparatives and superlatives as you can to express your feelings about what happened.
https://www.udemy.com/course/curso-de-ingles-para-iniciantes-completo/?referralCode=83D0E7D15AAFDD34A749